Complete people and payroll management
Using MyHR and PayHero is a fast track to streamlining your people and payroll processes. It's the easy way to hire, pay and manage employees and compliance.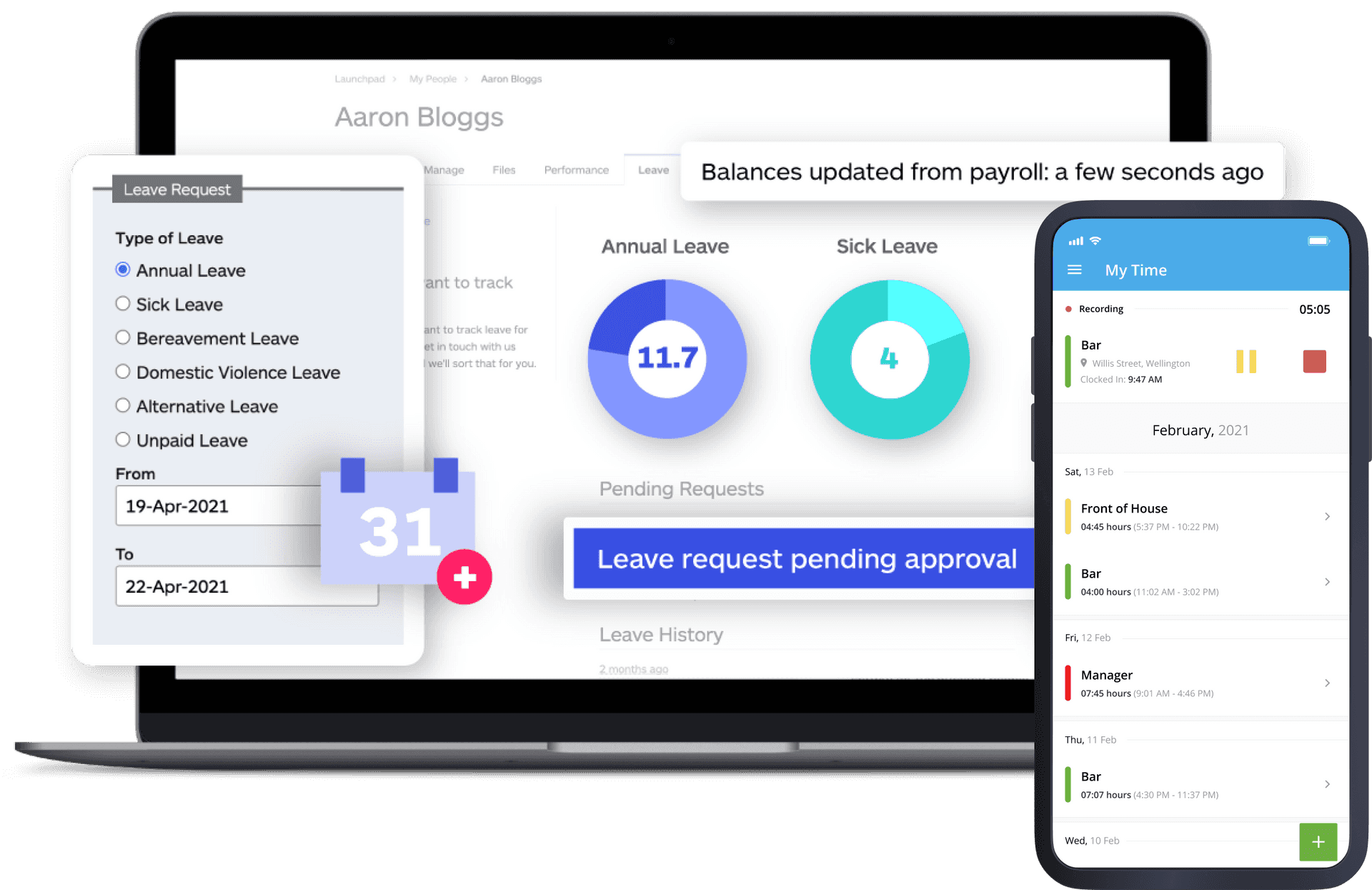 Fast, accurate payroll
Spend less time getting your payroll right with powerful online timesheet tools, employee self-service, expenses, leave management and zero touch payday filing.

Expert HR support
Keep on top of your people management with top notch HR software, backed by expert HR support. Easily manage hiring, onboarding, compliance, documentation, performance and change.

Better together
Connecting the best payroll and HR apps with powerful two-way integration makes things easy for employees, reduces duplicate effort and errors, and saves your business money.
How does the MyHR integration work?
1
Employee sync
Once you've connected your PayHero account with MyHR, employee data will be synced between both systems. When a new person signs their employment agreement, their employee record is created and available inside MyHR and PayHero.
2
Leave requests
MyHR pulls live data from PayHero so managers and employees are always seeing accurate, up-to-date leave balances and calendars. Employees can use their self-service MyHR portal to view their current, correct leave balances, apply for leave and have it approved.
3
Easy payroll compliance
Approved leave requests automatically sync with PayHero and the employee's leave balances and wage payments are calculated when you process the pay. Leave balances and calculations are driven from the rules engine in PayHero, which makes payroll compliance as easy as possible - even for variable hour staff.

About PayHero
PayHero is perfect for Kiwi companies that want stress-free and compliant online payroll. Especially those with a part time or flexible workforce, who face unique challenges tracking employee time accurately and calculating the right holiday entitlements for their staff.
Accurately capture employee hours with online timesheets, employee mobile app or photo clock in and out.
Automatically calculate pay and holiday entitlements from online timesheets and work patterns.
Connect to payday filing and we'll send your PAYE information to IRD.
Automatically send payroll transactions to Xero and track wage costs with account codes or tracking categories.
Expert phone and email support from our NZ-based team.
Get Started for Free
---
About MyHR
MyHR is top notch HR software, backed by expert HR support. It's like having a virtual HR department with all your people systems and documentation covered, and on-call help when you need it.
On-call Team - Expert HR advice from qualified HR consultants who'll support you and manage any employee issue.
Performance Reviews - Customizable performance review software. Add KPI's, highlight competencies for improvement, and design personal development plans.
Data Security - All your employee data stored securely in the AWS cloud with access provided safely to managers and key business stakeholders.
Hiring & Onboarding - E-sign an employment agreement quickly to secure the best candidate and get an induction process supported and prepared by our expert HR Consultants.
Issues & Change Management - Make changes to your business with the support of an HR expert navigating your legal obligations and requirements.
Find out more or try MyHR for free.
Connect PayHero & MyHR today
Employee onboarding, leave management & payroll compliance made super easy.
14 Days Free · First Pay Walkthrough · No Credit Card Required